IT'S TUESDAY SEPTEMBER 23, 2014 - ANOTHER GREAT DAY TO RIDE A BIKE.
START LOCATION: Northwest corner of Nordhoff and Etiwanda in Northridge (CSUN Parking Lot B1)*
START TIME: 8:00 AM SHARP*
Map to Ride Start
To download route slips, click on the corresponding ride number below. Slips are in PDF format, and are available online 1 week prior to the ride. Click on ride elevation for more ride data. Please send all route sheet corrections here.
*unless otherwise specified. See remarks below. For Monday and Wednesday rides, see below in "General Info".

September
Miles
Elev. (ft)
Rating (a)
Ride No.
Hits
Remarks
SEP 1 MON
CLASSIEST CALABASAS
27
905
1
180A
Labor Day (Also see Rides page for our normal Monday ride)
SANTA MONICA MOAN
50
1,888
3
604
SEP 6 SAT
CHAT TOWN TOURS
24, 35
539, 1,369
1, 2
162, 163
(b) Orientation Rides, with a "coach", are held on the first Saturday of the month.
BEVERLY HILLS BASH
41
1,898
3
524
HIDDEN VALLEY
75
3,682
4
729
BIG SKY CENTURY
102
6,413
5
801C
SEP 7 SUN
BALBOA BOOGIE
30
664
1
124
(c) Compagni (No Drop) Ride
NIGHTMARE ON ROSCOMARE
40
2,549
3
518
SEP 13 SAT
CLASSY CALABASAS
25
371
1
180
RIDEGUY'S MYSTERIOUS TOUR
35
1,185
2
131
CAHUENGA/MULHOLLAND EXPRESS
40
1,972
3
517
MR. MUGU
50
1,919
3
870
(d) 8:30am Start
MOORPARK RIDGE REVERSE
66
2,817
4
852
VENTURA/OXNARD CENTURY
100
2,980
5
849
SEP 14 SUN
VALLEY VISTA VIEWS
26, 40
447, 1,475
1, 3
152, 153
SEP 20 SAT
CALABASAS CUSS & FUSS
32
934
1
117
CHAT "WHERE'S THE WATER" LAKE
52
1,535
2
121
SAND CANYON RENDEZVOUS
47
3,085
3
325
LITTLE TUJUNGA CANYON
42
3,800
4
319
BEACH CANYON CLIMBS
74
4,696
5
756
SEP 21 SUN
RAMBLE REAL CAMINO EL
27
482
1
167
(c) Compagni (No Drop) Ride
EL CAMINO REAL RAMBLE
47
1,015
2
169
SEP 27 SAT
TOUR OF THE TARZANA T'S
25
674
1
110
26
TARZANA TREK
41
849
2
109
25
RING AROUND THE ROSE BOWL
57
2,148
3
436
48
PACE LINE CLINIC
49
860
3
866
46
(e) 8:30 am Start-New Ride
PEDAL TO PIRU
78
3,541
4
900
43
VAL VERDE CENTURY
96
5,491
5
233A
35
SEP 28 SUN
WILD ABANDON
28, 28, 49
767, 767, 1,266
1, 1, 2
156, 156, 157
13, 11, 10

(a) Ride ratings: 1 means a short-distance, relatively flat ride; 3 means an intermediate, medium-distance, somewhat hilly ride; 5 means a difficult, long-distance, and/or mountainous ride; In addition the ride pace tends to be faster on the longer rides, depending upon the terrain, weather, and ride participants.
(b) Orientation Rides, with a "coach", are held on the first Saturday of the month. This is a "No Drop" ride.
(c) The Compagni Group is ideal for new riders wanting to gain group ride experience, get acquainted with other cyclists at a similar level of skill and ability, and for those wanting to build a fitness base to move up to more challenging cycling experiences. For the less experienced cyclists this group experience allows for learning how to navigate and share the roadways with cars. More experienced cyclists are welcome to join the group and use it as a recovery ride.The Compagni rides will hold an average pace of 11-12mph with stops as needed so all riders can regroup. The Compagni Group will be lead by Kathy Heath and Bob Alonzi who will emphasize safety and group ride etiquette and skills. These moderate paced Compagni routes offer cyclists an opportunity to get acquainted with other riders and benefit from the support of a group cycling experience.
(d) 8:30am Remote start from Malibu Bluff Park (24250 Pacific Coast Hwy). Take Las Virgenes towards the coast. Cross PCH into the park. NOTE: The Malibu Triathlon takes place today. This means that we are in a protected lane for about 20 miles. We did this last year and it was fantastic.
(e) 8:30am Remote start from Freedom Park in Camarillo. 101 Freeway north, exit Las Posas Rd. Left (south) to Pleasant Valley Rd. Right (west) on Pleasant Valley Rd. to Freedom Park Dr. (past the soccer/softball fields). Restrooms available at start.


Monday & Wednesday Rides (2 start times: slower riders @ 8:15, faster riders @ 8:30)
Every Mon.
SIMI VALLEY VENTURE + BIG SKY
41
2,649
3
801B
Start at the Western Bagel in Northridge. 19500 Plummer Street.
MOORPARK
49
2,429
3
821A
"
Every Wed.
AGOURA CORRIDOR FROM WOODLAND HILLS
31
1,747
2
854A
Start at CVS -- 23357 Mulholland in the mall South of San Luis
AGOURA/NORTH RANCH FROM WOODLAND HILLS
35
2,184
3
854
"
Starting Time & Location: Unless otherwise noted, all SFVBC rides start from the CSUN (California State University Northridge) campus Parking Lot "B1" at the northwest corner of Nordhoff Street and Etiwanda Avenue promptly at 8:00 AM. Park "offsite" and ride over to avoid the $4 parking fee (there is always ample parking on Nordhoff at that time).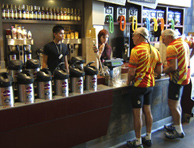 It's a Grind in Moorpark.
Monday Rides

Sometimes riding once or even twice weekly isn't enough. For those who want to put in an additional day in the saddle, the Monday ride may be just the thing for you.

There's always a rest stop featuring coffee and pastries. The ride starts at Western Bagel, 19500 Plummer St. Fast riders leave at 8:30 am, intermediate and slower groups at 8:15 am, except intermediate riders start at 7:30 am in the summer. The usual rest stop is the Corner Bakery in Simi Town Center, although the fast and slow groups sometimes ride to It's A Grind in Moorpark.

The ability to go over Santa Susana Pass (twice) is a must. Route slips shown above are only rough guides (inquire at start).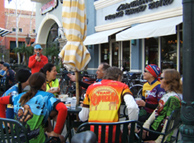 Wednesday ne'er-do-wells taking up patio space at Champagne French Bakery in Westlake.

Wednesday Rides

The Club has an increasing number of ne'er do wells, retirees, hooky-players, and, well, bums, who are available for rides on days other than weekends. If you're available for a fun ride of 30 to 50 miles, the Wednesday ride may be just for you.

The fast (really fast) and slower groups leave the CVS at 23357 Mulholland Drive, in the mall south of Avenue San Luis, at 8:30 am and 8:15 am (8 am in the summer for the slower group), respectively. The intermediate group leaves from Albertsons at Agoura Road and Las Virgenes at 8 am, 7:30 am in summer, most riding through Hidden Valley. The destination for all is Westlake.

Return is around noon, depending on mileage and how many goodies you consume at the Corner Bakery or the Champagne French Bakery in Westlake. The routes may vary from the route slips shown above (inquire at start).

- Bob Winning, Randy Lawrence, & Bud Bates